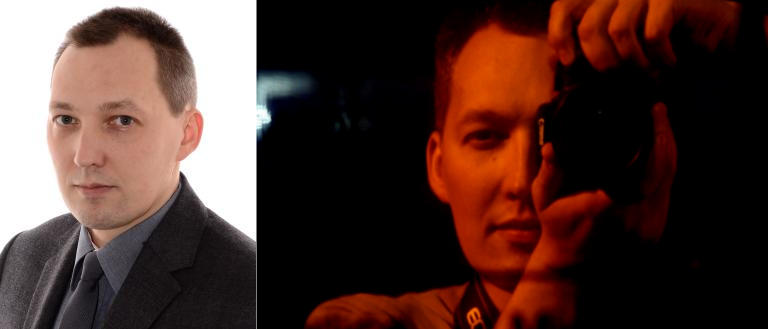 dr inż. Jarosław Bułat
Pracuję w Katedrze Telekomunikacji AGH (wcześniej w Katedrze Metrologii).  Moja praca polega w większości na drążeniu tematów związanych z szeroko rozumianym przetwarzaniem sygnałów.
Informatyka

: Lubię niski poziom, 10 warst abstrakcji i emulacji to 8-9 warstw za dużo. Jestem fanem Open Source  a to z powodu, że "wyrosłem" na różnych alternatywnych systemach operacyjnych – doceniam różnorodność i alternatywę do "głównego nurtu".

Android

  i inne "mobilne" systemy: sprzęt mobilny zrobił się absurdalnie szybki, to koniecznie trzeba wykorzystać.

3D

: akwizycja, przetwarzanie i prezentacja, w szczególności rekonstrukcja powierzchni 3D metodami wizyjnymi – zestawami kamer stereoskopowych jak również z sekwencji obrazów (ang. structure from motion), np. projekt TAPAS.

Obraz:

kompresja, cyfrowa obróbka, rozpoznawanie, kompensacja zniekształceń wprowadzanych przez tor optyczny aparatów fotograficznych oraz przetwornik CCD/CMOS. Deep Learning – to jest wytrych, któremu należy poświęcić dużo uwagi.

Telekomunikacja

: zagadnienia związane z modemami szerokopasmowymi (np. ADSL), w szczególności OFDM, korekcja kanału komunikacyjnego, zakłócenia, etc… .

SDR

: patrz https://sdr.kt.agh.edu.pl

Video :

kompresja, przetwarzanie, wyświetlanie.

Jakość

: Tematy bliskie jakości treści 3D (ang. Quality of Experience) – w szczególności tzw. przesłuchy w systemach prezentacji 3D

Dźwięk

: analiza, rozpoznawanie, kompresja dźwięku oraz mowy.

Fotografia:

to już hobby…
---
Obecnie można mnie spotkać:
AGH Budynek D5 p.011
Tel. służbowy: (12) 617-39-38
Tel. kom. 501149897
e-mail: kwant@agh.edu.pl
Zapraszam na konsultacje po wcześniejszym umówieniu.