]>
2.7

Solution of the parametric optimization problem For the evaluation of the performance index (2.6), we put , throughout Section 2.4, and assume , with . From Lemmas 2.6.1 and 2.6.2, and the Remark 2.4.1, it follows that the observation functional is bounded on for . Then (2.27) is satisfied and, by Theorems 2.4.1, 2.4.2 and 2.4.4, the Lyapunov operator equation

has a unique solution satisfying and , which is an HS operator. Therefore is the integral operator [86, Theorem 6.11, p. 139] defined by

with a symmetric and positive–definite kernel (see [28, Section III, 10.1] for explanation). Moreover, since , (2.23), (2.24) give

Theorem 2.4.5 and formulae (2.7) and (2.31) yield an additional characterization of :

where

with () as given in (2.33). is an entire function and for each fixed , the mapping is also entire function with the properties:

We determine the value of at the constant function (), since finding the value of at initial condition (2.5) requires only a slight modification. To do this, we put in (2.44), (2.45), which yields

where are given by (2.35). In particular,

provided that and . Employing the partial–fraction expansion of the function [56, Problem 5.2.7]:

with , (), we obtain

By the method described in Krzyż [56, Problems 4.5.15, 4.6.4], we have

We now apply the following identity found by the residue method [56, Problem 4.6.1]:

where the following facts have been taken into account:

Taking (2.49), (2.50) into account in (2.48), we come to

From the partial–fraction expansion of the function , which can be easily derived from (2.47), we find

Eliminating from (2.51) and taking (2.52) into account, we obtain the final formula for , valid for all :

In comparison with (2.46), the formula (2.53) is more convenient for numerical computation of as a function of , since it contains rapidly convergent series.

Now we are in position to solve Problem 2.2.1. To do this, we notice that the value of at the initial condition given by (2.5) is and therefore

The plot of as a function of , is depicted in Figure 2.4. The minimal value of is and it is achieved at .
---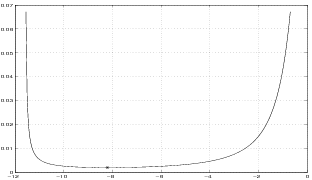 | | |
| --- | --- |
| Figure 2.4: | Plot of the performance index for Problem 2.2.1 |
---