Verses from "The Lord of the Rings" by J.R.R.Tolkien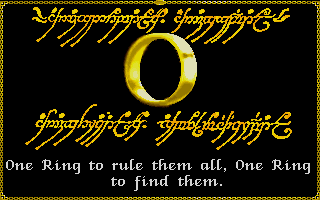 The picture above comes from the game "The Lord of The Rings" by Interplay.
Boromir's Riddle

Seek for the Sword that was broken:
In Imladris it dwells;
There shall be counsels taken
Stronger than Morgul-spells.
There shall be shown a token
That Doom is near at hand,
For Isildur's Bane shall waken,
And the Halfling forth shall stand.

---
---
Szymon Sokol <szymon@uci.agh.edu.pl> , 17.08.94, last modified 14.04.2005