Krakow (http://en.wikipedia.org/wiki/Krakow), the second largest city in Poland, a city of 750,000 population, is located in the central southern part of Poland. Well connected with major international airports such as Frankfurt am Main, München, Rome, London and others is served by a number of airlines to mention Lufthansa, Polish LOT, Alitalia, RyanAir, etc. It is only 1.5 hours by plane from Frankfurt and London. And, only six hours by car, or train, from Vienna, Austria.
Krakow is one of the most attractive tourist destinations in Europe. Krakow sports the largest medieval town square in Europe, and a large old town featuring a mix of meieval, renesance, and barok, architecture. The old town has the largest in Europe congregarion of churches; over a hunderd. Some of them are masterpieces of opulent and overwhelming barok.
Krakow is also the cultural center of the Eastern Europe. Music of renesance of barok of modern compositions is performed every day in magnificent sacral environments, and musical halls and other cultural establishments. Museums, art galleries, and exhibitions of historic and modern arts are in abundance. The Krakow's town square restaurants are buzzing with life till early morning hours.
Krakow is the largest center of higher education in Poland, and in the central Europe. Over 200,000 university students get their degrees from a sizable number of academic institutions, the most famous of which is the Jagiellonian University established in the 14th century. Some of the most famous personalities with links to the Jagiellonian University include Nicolaus Copernicus, Karol Wojtyla (John Paul II), and Nobel laureates in literatute Ivo Andrić and Wisława Szymborska.
From the south, Krakow is backed by the scenic Tatra mountains (http://en.wikipedia.org/wiki/Tatra_Mountains) , just a two hour drive from Krakow. This rocky formation, like Alps, is a magnet for the local population and foreignes alike, all year long. A day visit is a must, and is going to leave unforgetable memories. June is a perfect time for trecking and sightseeing.
Krakow – Get tempted!
---
The conference will be held at the AGH University of Science and Technology (AGH-UST), which is one of the oldest and biggest Polish technical universities with 90 years in existence. The university has 15 faculties and a Multidisciplinary School of Engineering in Biomedicine, 33fields of study, more than 170 specializations, 35,000 students, 500 doctoral students, and over 2,000 researchers including 227 full professors. Well over 150,000 graduates have passed through the halls our university.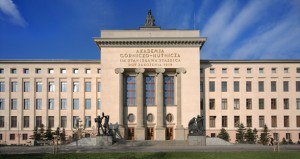 AGH-UST participates in many research and educational programs some of them: FPs of EU, SOCRATES-ERASMUS, CULTURE, INTERREG III, LEONARDO, TEMPUS,  EUREKA, COST, e-TEN.
AGH-UST cooperates with over190 academic centers from 50 countries, and with numerous companies to mention: IBM, Motorola, L.G., Philips, RWE Power AG,  Delphi, Siemens, and KGHM.