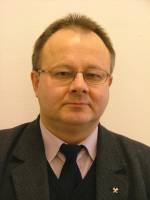 Link to the old page: https://home.agh.edu.pl/~ligeza/wiki/doku.php
This is home page of Antoni Ligęza.
I am professor of Computer Science at
AGH University of Science and Technology in Kraków, Poland.
I give courses on Databases, Prolog and Artificial Intelligence/Knowledge Engineering.
My research is focused on Knowledge Engineering, Constraint Programming, Rule-Based Systems, Automated Diagnosis, Logic and Automated Planning.
View my profile and papers on Google Scholar \\I was a vice-president of the Polish Artificial Intelligence Society Polskie Stowarzyszenie Sztucznej Inteligencji|
Doktoraty/Badania naukowe
Doktoraty/Badania naukowe Osoby zainteresowane Doktoratem, Studiami Doktoranckimi z Informatyki, pracą naukową w obszarze Sztucznej Inteligencji/Inżynierii Wiedzy – zapraszam do kontaktu. Zgodnie z nowmi przepisami powołano Szkołę Doktorską w AGH: Szkoła Doktorska AGH; istnieje możliwość realizacji doktoratu wg szybkiej ścieżki.
TEMATY PRAC MAGISTERSKICH (na rok 2019-2020 i dalej)
Nowe TEMATY PRAC MAGISTERSKICH (na rok 2019-2020 i dalej): Zainteresowanych tematyką z obszaru zastosowań sztucznej inteligencji/inżynierii wiedzy proszę o kontakt.
Prace magisterskie 2019-2020-2021-2022
Osoby zainteresowane ambitniejszymi pracami dyplomowymi/magisterskimi/doktorskimi z obszaru Sztucznej Inteligencji/Inżynierii Wiedzy zapraszam do współpracy. Zakres tematyki:
Constraint Programming, Constraint/Logic Programming, Answer Set Programming; MiniZinc, Numberjack, Picat,
Model-Based Reasoning, Model Discovery, Bayes Networks, Causal Structure Discovery, Diagnostic Reasoning, Abduction,
Automated Planning, Scheduling, Operations Research Models,
DMN – Decision Modeling and Notation; BPMN – Business Process Modeling and Notation, Business Rules, Business Intelligence,
Many-Valued Logics, Logics for Uncertainty, Paraconsistent Logics, Logics for Inconsistent Systems,
Very Large Graphs, Granular Graphs, Hipergraphs, Large Networks, Robust Graphs,
Machine Learning, Data Analysis, Knowledge Induction,
Logics, Attribute Logics, Inference, Backward Dual Resolution,
Bioinformatics, biological models for computing and inference.
2019-2020-2021-2022: Nowe tematy prac inżynierskich i magisterskich – do uzgodnienia. Istnieje także możliwość zgłoszenia nowych/własnych tematów z obszaru Inżynierii Wiedzy/Sztucznej Inteligencji.